Manuel Luque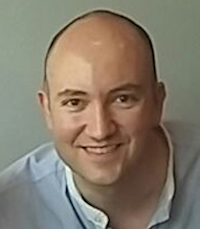 Contents
1

Presentation

Manuel Luque was born in Madrid in 1977. He is Computer Engineer from the University of Málaga since 2003 and European Doctor from the Spanish National University for Distance Education (UNED) since 2009. He is currently a Contracted Lecturer (intermediate position between Assistant Professor and Associate Professor) in the Department of Artificial Intelligence at UNED. Previously, he received a 4 year scholarship Researcher Training from the Regional Government of Madrid. He has been a tutor in person and a virtual tutor at UNED since joining this university in 2003. His research is focused on Decision Making under Uncertainty based on Probabilistic Graphical Models, and its applications to fields such as medicine and education. In the area of educational innovation he has participated in several research networks as a member or coordinator, and in one of them he received the Award for the Best Educational Innovation Network of UNED in 2011.
2

Teaching activities
2.1

Undergraduate courses
Logic and Discrete Structures. Degree in "Computer Engineering" and Degree in "Engineering in Information Technology". UNED. 1st Year. 1st Semester. 6 ECTS.
2.2

Postgraduate courses
Probabilistic Methods. Master Degree in "Advanced Artificial Intelligence: Fundamentals, Methods and Applications" and Master Degree in "Languages and Computer Systems". UNED. Annual. 6 ECTS.
3

Research activities
3.1

Publications
3.1.1

Journal articles
3.1.2

Conference papers
3.1.3

Technical reports
M. Luque and F. J. Díez. Variable elimination for influence diagrams with super-value nodes. Technical Report DIA-08-01, Dpto. Inteligencia Artificial, UNED, Madrid, Spain, 2008
M. Luque, T. D. Nielsen, and F. V. Jensen. An anytime algorithm for evaluating unconstrained influence diagrams. Technical Report CISIAD-10-05, Dept. Artificial Intelligence, UNED, Madrid, Spain, 2010b
3.1.4

Doctoral thesis
3.2

Researcher profile

Public and updated information about my researcher profile is available in next websites:
3.3

Research projects
Project: Financing of hospitals and allocation of resources through interactive multiobjective techniques.
Funded by: Servicio Andaluz de Salud. Junta de Andalucía.
Participant institutions: Universidad de Málaga, Universidad de Granada.
From 2000  to 2001
Responsible researcher: Prof. M

a

. Del Puerto López del Amo.
Number of participant researchers: -
Project: Métodos multiobjetivo interactivos y su aplicación a la toma de decisiones en la economía de la educación.
Funded by: Junta de Andalucía.
Participant institutions: Universidad de Málaga.
From 2000  to 2001
Responsible researcher: Prof. Rafael Caballero Fernández.
Number of participant researchers: -
Project: Elvira II: Aplicaciones de los modelos gráficos probabilísticos.
Funded by: Ministerio de Ciencia y Tecnología (TIC2001-2973-C05-04).
Participant institutions: UNED, Univ. de Castilla-La Mancha, tres hospitales, ITESM (México), IIE (México).
From 2001  to 2004
Responsible researcher: Prof. Francisco J. Díez Vegas.
Number of participant researchers: 12
Project: Utilización de modelos gráficos probabilistas para evaluar el impacto de los factores organizativos en el riesgo de accidente en centrales nucleares españolas.
Funded by: Consejo de Seguridad Nuclear (CSN).
Participant institutions: UNED.
From 1/4/2004  to 31/3/2005
Responsible researcher: Prof. Severino Fernández Galán.
Number of participant researchers: 4
Research network: Modelos gráficos probabilísticos y aplicaciones.
Funded by: Ministerio de Educación y Ciencia (TIN2004-21428-E).
Participant institutions: CSIC, Universidades de Almería, Cantabria, Castilla-La Mancha, Granada, UNED, País Vasco, Politécnica de Madrid, Politécnica de Cataluña, Rey Juan Carlos y Sevilla.
From 2005  to 2006
Coordinator: José Antonio Lozano Alonso (Univ. País Vasco).
Responsible researcher at UNED: Francisco J. Díez Vegas.
Number of participant researchers: 67
Project: Redes de Análisis de Decisiones: Un nuevo modelo gráfico probabilista para sistemas inteligentes de ayuda a la decisión. Representación, algoritmos y aplicaciones.
Funded by: Ministerio de Educación y Ciencia (TIN2006-11152).
Participant institutions: UNED, Universidad de Castilla-La Mancha.
From 2006  to 2009
Responsible researcher: Francisco Javier Díez Vegas.
Number of participant researchers: 13
Research network: Modelos gráficos probabilísticos y aplicaciones.
Funded by: Ministerio de Educación y Ciencia (TIN2006-28221-E).
Participant institutions: CSIC, Universidades de Almería, Cantabria, Castilla-La Mancha, Complutense, Granada, UNED, País Vasco, Politécnica de Madrid, Politécnica de Cataluña, Rey Juan Carlos, Sevilla y Zaragoza.
From 2007  to 2008
Coordinator: José Antonio Lozano Alonso (Univ. País Vasco).
Responsible researcher at UNED: Francisco J. Díez Vegas.
Number of participant researchers: 86
Project: Modelos gráficos probabilistas dinámicos y sus aplicaciones.
Funded by: FONCICYT (7

o

 Programa Marco de la UE + CONACYT, México) , n

o

 95185.
Participant institutions: INAOE (México), UNED (España), Agencia Laín Entralgo (España), Atos Origin SA (España), ProBayes (Francia), Univ. Dundee (Reino Unido), Univ. Radboud de Nimega (Holanda), ITESM (México), Instituto de Investigaciones Eléctricas (México).
From agosto 2009  to agosto 2011
Responsible researcher: Luis Enrique Sucar (INAOEP, México).
Number of participant researchers: -
Project: Modelos gráficos probabilistas: De la teoría al mundo real.
Funded by: Ministerio de Ciencia y Tecnología (TIN2009-09158).
Participant institutions: UNED, Universidad de Castilla-La Mancha.
From enero 2010  to junio 2011
Responsible researcher: Francisco J. Díez Vegas (UNED).
Number of participant researchers: 12
Project: OPTImization of the automated Fitting to Outcomes eXpert with language-independent hearing- in-noise test battery and electro-acoustical test box for cochlear implant users (OptiFox).
Funded by: 7

o

 Programa Marco de la Unión Europea, n

o

 262266.
Participant institutions: Otoconsult, Univ. de Amberes y Karel De Grote Hogeschool (Bélgica), Facultad de Medicina de Hannover y Hörzentrum Hannover (Alemania), Univ. Libre de Amsterdam, Univ. Radboud de Nimega, Akoestische Bouwprojecten y ABC International Trade (Holanda) y UNED (España).
From noviembre 2009  to octubre 2012
Coordinator: Paul Govaerts (Otoconsult, Belgium).
Responsible researcher at UNED: Francisco J. Díez Vegas (UNED).
Number of participant researchers: -.
Project: Estudio de coste-efectividad y análisis de sensibilidad en modelos gráficos probabilistas para la toma de decisiones en medicina.
Funded by: Proyectos de Investigación Propia de la UNED (2012).
Participant institutions: UNED, Complutense, Hospital San Pedro de Alcántara de Cáceres.
From diciembre 2012  to noviembre 2014
Responsible researcher: Manuel Luque Gallego.
Number of participant researchers: 7
4

Contact information

Manuel Luque

Contracted Lecturer

Department of Artificial IntelligenceHigher Technical School of Computer Engineering

Spanish National University for Distance Education (

UNED

)

Office 3.05

Juan Del Rosal, 16

28040 Madrid - SPAIN

E-mail:

mluque@dia.uned.es

Phone: +34 913988405

Twitter:

@mluquega